Survey indicates public's awareness of biodiesel triples
Five years ago, barely a quarter of the people asked had ever heard of biodiesel. Today, most people are familiar with the renewable fuel. One of NBB's core functions is raising the public's awareness of biodiesel and building confidence in the fuel-and those efforts are paying off.
According to an Internet-based survey conducted in August by Moore Information, 86 percent of the participating respondants have now heard of biodiesel. That compares to just 27 percent in June 2004. The survey sampled a representative group of registered voters.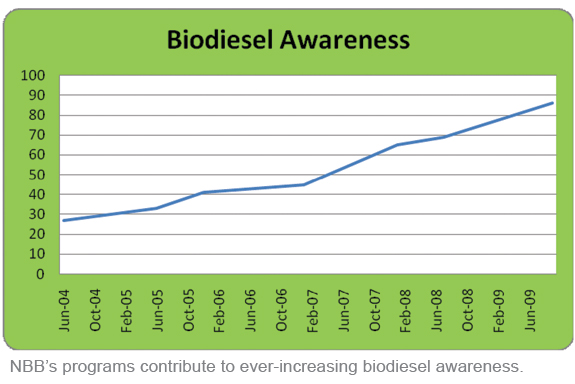 But that's not all the numbers show. Not only have people heard of biodiesel, they are also becoming more familiar with what it is. In 2004, 8 percent of people were familiar with biodiesel. Today, 48 percent of those surveyed say they are familiar with biodiesel. The survey also demonstrated that people's view of biodiesel is widely positive. Also, 80 percent of consumers surveyed said they would use the fuel, the highest percentage to date.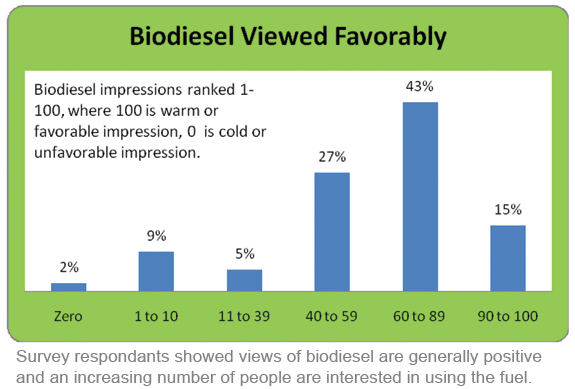 In addition to looking at how people view biodiesel, NBB also examined how survey participants responded to certain key words and biodiesel's benefits. All of biodiesel's benefits tested well, with economic benefits leading as the greatest benefit. The survey also showed that the term "renewable" is favored over "biofuels," "alternative" and "green."
For more detailed analysis of the Moore Information survey, visit NBB's web site or contact the communications office.