U.K. Accounting for Sustainability
The United Kingdom's Renewable Transport Fuel Obligation gives a glimpse of the future.

For buyers at Greenergy International Ltd. headquartered in London, not a day goes by without a discussion on sourcing sustainable biofuels. The biodiesel producer and fuel distributor is joined by all U.K. fuel suppliers facing new carbon and sustainability requirements. The U.K.'s Renewable Transport Fuel Obligation started with mandatory reporting, with the first year closing in April. The carbon savings standard takes effect April 2010, and the feedstock sustainability standards will begin in 2011. The U.K. standards will be harmonized with the European Commission's rules for the Fuel Quality Directive and the Renewable Energy Directive currently in development. Those standards call for 35 percent greenhouse gas (GHG) reductions for biofuels in the first years of the program, and compliance with sustainability requirements now in development. The U.K. implemented its RTFO in advance of the EC directive taking effect, providing experience for other EU states, as well as the rest of the biofuels industry, to consider when devising their own schemes.
The challenge for Greenergy buyers has been to get more complete information about the supply chain of the ethanol and biodiesel it handles. "We're not talking segregation of physical product," explains Alex Lewis, Greenergy head of communications. Instead, it is an accounting function described as mass balance, tracking purchases and sales; and noting the feedstocks used to manufacture the biofuel, the location where they are produced, the fuel's carbon savings and whether it meets sustainability criteria. Greenway's first report, filed this summer, was verified by an independent auditing firm in a manner similar to how certified public accountants review annual financial reports.
Greenergy is a relative newcomer among U.K. fuel distributors, opening its doors in 1992 as a supplier of ultra-low sulfur diesel. In 2002, the company launched GlobalDiesel, a branded biodiesel blend, followed the next year by their ethanol blend, GlobalPetrol. In 2005, Greenergy began construction on the first of two 100,000 metric ton-per-year (approximately 30 MMgy) biodiesel plants at the English east coast port of Immingham. Greenergy has become the U.K.'s largest and fastest growing independent oil company, now selling more than 4 billion liters of fuel a year (more than 1 billion gallons), claiming a 13 percent share of the U.K.'s on-road fuels market.
As part of its commitment to be a leader in providing sustainable renewable fuels to the consumer, the company posts its RTFO reports on its Web site, giving a glimpse of what a market built on sustainable biofuels may look like for all producers in the future. In the first year of the RTFO-April 2008 to April 2009-Greenergy reported carbon savings averaging 61 percent overall against fossil fuel equivalents, significantly above the U.K..'s target of 40 percent. Of that, 43 percent met sustainability standards compared with the government target of 30 percent.
Greenergy's strategy to achieve its first year performance for GHG savings was to source as much tallow and tallow biodiesel as possible, mostly from the U.S. Tallow as a byproduct of meat production (in this case, a generic term encompassing all animal fats) is automatically deemed to meet sustainability standards in the U.K. and is rated at an 81 percent GHG savings. Almost all of Greenergy's soy purchases were from the U.S. as well, although none met a qualifying standard because no U.S. agricultural standard has been benchmarked by the Renewable Fuels Agency.
Underlying Greenergy's main concern with the RTFO is the lack of sustainability standards in multiple supply nations. "Whilst we welcome the adoption of carbon targets, we question the usefulness of the second target in measuring the performance of the obligated companies," the company stated in October 2008. "While the quarterly reports provide a lot of data, we believe that they fail to provide meaningful information on the supply chains of obligated companies." Obligated parties in the U.K. are refiners and distributers who pay duties, essentially, including biofuel producers selling directly to fleets and other consumers, in addition to fuel distributors. "For widely used biodiesel feedstocks such as U.S. soy, European (non-U.K.) rape and Canadian canola, there are no standards in general use which meet RTFO requirements," according to Greenergy. "Yet all are long-standing historic crops grown under well-regulated agricultural regimes. Not meeting a qualifying standard in these cases does not mean that the crops have been grown in an unsustainable way. The simple government goal of 30 percent of feedstocks coming from sustainable sources fails to take into account the variation from crop to crop and country to country in the potential for crops to have a negative environmental impact." The company gives the example of soy grown in the U.S., which is highly unlikely to have been grown on recently deforested land compared to palm oil grown in Indonesia, where deforestation for oil palm production is a distinct possibility.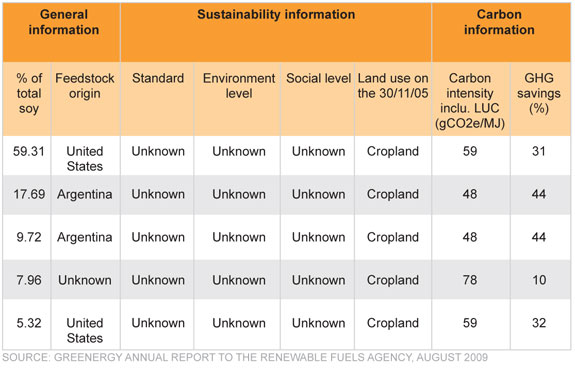 In the effort to increase the supply of qualifying sustainable biofuels, Greenergy has been involved with the Roundtable on Responsible Soy, an international effort involving soy producers from South America and India, along with industry and nongovernmental organizations, whose effort is similar to the Roundtable on Sustainable Palm Oil. Greenergy is also working with Brazilian groups to develop a system to certify sustainable sugarcane ethanol. Greenergy says it has no plans to handle U.S. corn ethanol because of its poor sustainability profile, although the company does list the U.S. as the major supplier of soybean biodiesel. "We've started to talk to our U.S. suppliers to explain what would be involved [to meet the sustainability standard]," Lewis tells Biodiesel Magazine. "There is a lot of interest. People like to be ahead of the game-it opens up new markets for them." Last year, the company was able to confirm that U.S. soybean feedstocks were grown on established cropland, and Greenergy encourages its U.S. suppliers to develop more detailed supply-chain knowledge. Lewis believes it will not require a dramatic change in practices, but rather the documentation of practices in use that indicate better carbon savings and sustainability performance than the RTFO default values.
Devising Defaults
Chris Malins, communications director for the U.K.'s RFA administering its RTFO, explains the default values for GHG savings are based on worst-case scenarios for each fuel pathway. For U.S. biodiesel, the feedstock rated lowest is canola, which sets the U.S. default at minus 8 percent GHG savings. Interestingly, the default value for Canadian canola biodiesel is 35 percent. Taking numbers from the United Nation's Food and Agriculture Organization, Malins says the difference reflects assumptions about fertilizer application. "Our default LCA [life-cycle analysis] assumes substantially higher applications of ammonium nitrate, triple superphosphate and potassium chloride for the U.S. default than the Canadian default," he explains. For those familiar with U.S. canola production, the difference between the U.S. and Canadian score raises multiple questions, since more than 90 percent of the U.S. canola crop is grown within 100 miles of the Canadian border in similar soil and climate conditions as the Canadian production, using similar production practices. Don Scott, sustainability director for the National Biodiesel Board, says they noted a similar problem with some initial European GHG savings values for soy biodiesel that, when explored further, were derived from South American practices, which are significantly different than U.S. methods.

Malins says the U.K. system provides two ways to address low default values. One, a company can document the actual practices for a specific area of feedstock production, and use the manual carbon calculator provided on the agency's Web site to determine the rating. The calculator could also be used to identify which changes in production practices would offer the greatest improvement in GHG savings. Two, an organization such as the U.S. Canola Council can challenge the accuracy of the FAO figures and provide evidence for suggested revisions. The U.K.'s RFA default values, however, will soon be supplanted by the European Commission's Renewable Energy Directive, Malins adds. Reports from the EC Directorate for the Environment indicate the EC system, due out in the next year, will also incorporate the ability to challenge the defaults or provide site-specific data. "It is worth noting that all country level default values are designed to be inherently conservative," Malins adds. "This is to encourage the provision of actual information and ultimately to encourage lower carbon production."
While the GHG savings ratings involve the familiar life-cycle analysis, for which the International Standards Organization has established a protocol, measuring sustainability is new. Only one certification system, developed by the Roundtable for Sustainable Palm Oil, is in place worldwide. The RSPO wrote a broad set of environmental, social and economic principles that are further elaborated in a list of criteria and indicators. Each member nation in the RSPO has developed a national plan to apply the principles and criteria to its situation, which is then approved by the RSPO in a process that allowed public review and comments. The RSPO also approves certifiers after reviewing their certification work plans. The Roundtable for Sustainable Biofuels has patterned its work on the RSPO efforts, along with other certification systems. The comment period for Version Zero of the RSB proposed principles and criteria closed last spring and Version One was due out this fall. While industry participation among producers for the RSPO is obviously limited to palm oil producers, the RSB has involved stakeholders, including farmer groups, biofuel producers and industry buyers, from across the world. The negotiations around what sustainability will mean in practice also includes the biofuel industry's biggest critics-environmental groups and other organizations with concerns about worker's rights and indigenous peoples. Many of the social organizations raise concerns targeted at developing countries, where labor laws and land rights are not as well established as in North America or Europe.
There are indications that most existing European and North American agricultural practices will meet sustainability criteria. Malins points out that in the U.K., the country's farm program known as the Assured Combinable Crop Scheme is considered adequate for U.K. sustainability requirements. Those familiar with Germany's sustainability certification development say the cross-compliance requirements of the EU's Common Agricultural Policy are considered sustainable. Cross compliance ties any farm program payments to compliance with multiple agricultural best practices addressing soil and water quality and other environmental concerns. Germany's sustainability guidelines in development do add requirements above the current cross-compliance measures to protect areas with high natural value, such as grasslands with significant diversity, and areas with high stocks of carbon, such as wetlands. Direct land use change in the U.K. and German proposals is addressed by requiring eligible feedstocks to be produced from existing cropland.
While Europe is much further along in the development of sustainability guidelines than the U.S., there is one topic Europeans are watching unfold in the U.S.-indirect land use change. The incorporation of indirect land use impact in the proposed rule to implement the revised U.S. renewable fuels standard sparked an industry-wide critique of the concept's assumptions and untested methodology. The EC's Directorate for the Environment studied the methodology and potential policies this summer, with the expectation of opening a public comment period on resulting proposals in the fall. A directorate spokesman gave no indication to what extent indirect land use might figure into those policies.
It remains to be seen whether emerging sustainability and carbon requirements will elicit an industry response similar to the indirect land use issue. The U.K. experience to date would suggest that it will not. Implementation of the RSPO and the RSB appear to be proceeding with broad industry support. The real challenge may be for the biodiesel industry to keep on top of all the efforts in the future, providing current data and thoughtful feedback to policymakers, and keeping a watchful eye on the details.
Susanne Retka Schill is assistant editor of
Biodiesel Magazine
. Reach her at (701) 738-4922 or
[email protected]
.