South American Expansion
Argentina and the EU are set for a trade showdown as the Brazilian demand floodgate bursts open. Plus, the Tupi oil discovery draws attention, biodiesel provides an alternative to narcotics production, and millions of dollars in credit opens for family farmers.
In late September, Carlos St. James, president of the Argentine Renewable Energy Chamber was stuck in traffic in Valparaiso, Chile, after attending a BioTop consortium conference hosted by the Catholic university here. The conference featured several prominent European and Latin American scientists who cooperated and shared information for the mutual development of each continent's respective industries.
Biodiesel Magazine
asked St. James if Brazilian energy conglomerate Petrobras' recent expansion into the Chilean market-after the recent acquisition last year of ExxonMobil's Esso distribution assets-was a hot topic of discussion at the event. "This was a very academic conference and the attendees were not very interested in the business side of things," St. James says. Nevertheless, Petrobras reported plans to invest $500 million to help diversify Chile's energy mix by introducing renewable energy sources, especially biofuels.
While European and Latin American scientists cooperate on biodiesel standardization, process technologies, biogas production and other exciting aspects of renewables development, trade issues between the two continents are festering. One reason for this could be that Argentina's and Brazil's biodiesel programs are rapidly increasing their power, while Europe is struggling.
"The European biodiesel industry continues to suffer the effects of over-development borne of great enthusiasm to enter a new industry and with easy access to venture capital and financing, along with government subsidized prices," AREC stated in a September report. "However, they did not consider adequately their access to raw material nor competition from countries such as Argentina with large, efficient and very professional industries, nor the critical component of being among the largest producers of feedstock."
By encouraging domestic processing of soybeans-soy oil and biodiesel are taxed at lower rates than whole beans-Argentina has been accused of causing distortions in the world market. This notion was disputed in a recent report released by AREC. "The president wanted to raise export taxes, but she lost that bid," St. James says. "Of course we would like to see them go down, but I don't see that happening either-we're kind of at a stalemate right now."
In August, the European Biodiesel Board told
Biodiesel Magazine
that it was "gathering evidence" after observing that imports from Argentina had multiplied 20-fold to 85,047 metric tons (approximately 25.5 million gallons) in April, basically accusing Argentina and the United States of colluding to circumvent the EU's countervailing measures against U.S. B99. The EBB also said that the indirect subsidy for domestic soybean processing created an unfair advantage in the international marketplace.
"There has been no response from Europe on the publication of our report," St. James says. "If you are the organization that represents the industry [in Europe] then you basically have to start barking and pointing your fingers, because they are only producing at half their capacity," St. James says. "We found that 25 percent of Europe's biodiesel is made from Argentine soybeans, so there seems to be some considerable hypocrisy in the fact that our soybeans are welcome there but not our biodiesel."
Peru Trade Issue
In other South American trade issues, Peru has also reportedly begun an antidumping investigation into U.S. biodiesel imports, and could impose tariffs similar to the EU. "The Peruvians have been complaining a lot," St. James says. "Their president said that using Peru's own soy oil to make biodiesel was immoral because of its status as a feedstuff, which has really hurt their industry, so they've had to import it. We're certainly not selling biodiesel to Peru at a discount when we can sell it at the international price."
Pure Biofuels Corp. operates a 127 MMly (33.5 MMgy) biodiesel plant in Calloa, Peru, that is currently under expansion. Pure Biofuels acquired InterPacific Oil SAC's biodiesel production business in 2007, Peru's largest and longest-running biodiesel processor. InterPacific currently produces 32.7 MMly of biodiesel and has been producing commercial quantities since 2002. Two plants are under construction: Industrias del Espino with a capacity 42.5 MMly near Cocache, San Martín; and Herco Biocombustibles SA with a capacity of 85 MMly near Lurin, Lima.
According to the BioTop consortium, only 10 percent of the productive capacity of Peruvian plants is currently in use. In addition, it is facing difficulties meeting the B2 mandate introduced in January, primarily because of its small agricultural sector. "Thus, it is forced to import biodiesel from other countries, such as the United States and Ecuador," BioTop reports. "In early 2009, 72,000 barrels (more than 3 million gallons) of biodiesel were imported by Petro Peru to meet the blending mandate. The challenge for Peru will be to import the raw material and refine it within the country instead of importing biodiesel directly."
BioTop reports that the Peruvian government has hopes that the potentials of the biodiesel market could entice farms to switch to crops other than coca, which is used for narcotics production.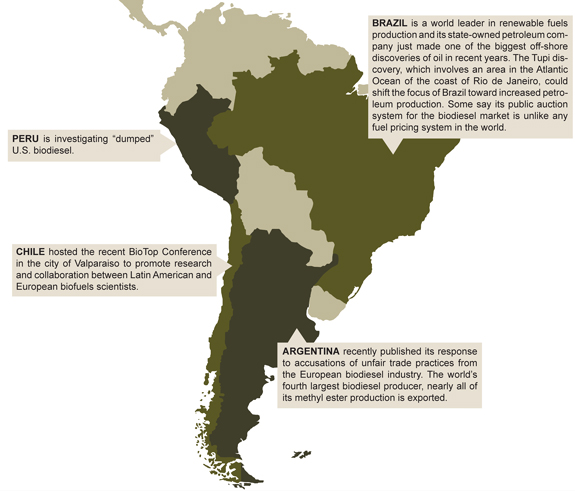 Snapshot: Brazil, Argentina
Brazil and Argentina are among the top five biodiesel-producing nations of the world, delivering 1.03 million tons and 960,000 tons, respectively. The entirety of Brazilian biodiesel is consumed domestically, while nearly all of Argentina's methyl esters are exported.
Brazil currently has 65 biodiesel plants in operation and production is projected by the USDA Foreign Agricultural Service to top 1.5 billion liters in 2009, while industrial capacity is at 4.1 billion liters. There are five major oilseed crops grown in Brazil, the FAS reports-soybeans, seed cotton, peanuts, castor bean and sunflowers. Brazil's National Petroleum Agency (ANP) adds that soybeans account for 81.3 percent of the total biodiesel feedstock.
Brazil's fuel consumption climbed 0.3 percent from last year to more than 13 billion gallons in the first half of 2009, according to ANP data. The ANP's 15th biodiesel auction was held in late August. The auction system gives preference to producers with a "social fuel stamp." All of the biodiesel sold is purchased by Petrobras and the Alberto Pasqualini refinery for mixing to the B4 standard currently in place. It seems like this price discovery apparatus is fairly transparent and efficient, compared to systems used in the rest of the world.
To encourage the increased production of biodiesel feedstocks, Petrobras and Banco de Brasil recently negotiated a financial deal that will establish credit lines for domestic oilseed producers. More than $49 million will be "earmarked" for oilseed production. Petrobras also guarantees purchase of the harvest. Some 60,000 farmers will have access to a credit line. "In practice, producers will have cash to invest in production and the certainty of a buyer," Petrobras stated in September.
Ethanol usage increased 17.7 percent this year to nearly 3 billion gallons, and biodiesel consumption rose 42.7 percent in the first six months of 2009 as the national mandate doubled from B2 to B4.
Petrobras' biggest oil discovery in recent decades-the so called "Tupi" area off the coast of Rio De Janeiro- and the Herculean effort required to extract the material caused speculation that the biodiesel side of the business might slow. "Biofuel production projects are carried out parallel to the pre-salt activities," says Allesandra Ribas, press manager for Petrobras. "[The company] continues investing in biofuels and increased the resources earmarked for this area by 87 percent compared to the previous business plan." The strategy for the next four years foresees investments in the order of $2.8 billion in this segment, of which $2.4 billion will be set aside for Petrobras Biocombustível, the biofuels division of the state-owned oil conglomerate.
"The subsidiary was created last year to place the company in the biofuel production segment, notably biodiesel and ethanol," Ribas says. "Petrobras will invest the remaining $400 million in the biofuels logistics area, and an additional $530 million is foreseen for biofuel technology research and development, under the management of Petrobras' Research Center. In addition to this being a market opportunity, this activity is aligned to the company's environmental commitment guidelines."
A significant advantage for Brazil is its access to cheap ethanol as an alternative to methanol for transesterification. "This is promoted by the Brazilian sugar cane industry, but currently most biodiesel is still produced with imported methanol since the process with ethanol is more expensive, and since the methanol transesterification process is technically more mature," BioTop reports.
Petrobras has developed its own flex-feedstock biodiesel process technology, but Brazilian engineering firm Dedini and its Italian partner Ballestra S.P.A. are the main suppliers of biodiesel plants in Brazil with varying production capacities from 10,000 tons to 100,000 tons per year, BioTop reports, and has current projects that are integrating ethanol and biodiesel production processes.
While Brazil uses all of its biodiesel internally, not a single plant in Argentina has sought approval for selling into the domestic market since all plants are authorized only to export fuel for marketing. This is because exports are less regulated in Argentina, with its 14 "authorized" biodiesel plants.
But that situation will change in the near future. St. James says there is a B5 mandate scheduled to be implemented in 2010 that will alter the flow of biodiesel abroad, redirecting hundreds of thousands of tons of methyl esters for domestic use. "Then the Europeans will be complaining that they don't have enough Argentine biodiesel or that the price is too high," he says.
Nicholas Zeman is an associate editor for
Biodiesel Magazine
. Reach him at (701) 738-4942 or
[email protected]
.